Master of Science in Speech-Language Pathology
Making a difference in the lives of individuals with communication and swallowing impairments
The Master of Science in Speech-Language Pathology program prepares you for a high-demand, satisfying career helping children and adults improve their lives with better communication and swallowing. We are guided by the Core Values of the Beaver College of Health Sciences as we prepare graduates who are ethically and culturally competent and uphold the principles of evidence-based and interprofessional practice.
Program Highlights
Our program is designed to give you the knowledge and clinical training you need to serve children and adults with communication and swallowing disorders in a range of clinical settings. You will learn how to prevent, assess and treat speech, language and swallowing disorders. And, you will obtain a minimum of 400 hours of direct clinical experience you need for licensing and certification. Our job placement rate is 100%, because employers know our graduates are ready for professional practice.
Students that complete this program of study will:
Be able to provide person-centered care
Demonstrate professional knowledge and skills for the provision of effective assessment and treatment procedures
Integrate the use of technology and evidence into clinical practice, engage in ethical conduct and practice
Reflect on professional interactions
Use best practices in evaluating and treating communication disorders and/or differences
Provide culturally relevant and sensitive care
Treat others with respect and dignity
Develop a commitment to continuing education and professional development.
Program Information
Students with an undergraduate degree in Speech-Language Pathology typically complete the program in five semesters. For students entering the program with undergraduate degrees in fields other than Speech-Language Pathology, prerequisite courses must be completed prior to enrolling in graduate coursework.
Clinical Practicum & Internship
Students will begin clinical practicum in their first semester. The clinical practicum coursework and internship will provide the 400 hours of supervised clinical experiences required for the American Speech-Language-Hearing Certificate of Clinical Competence (CCC).
Most students will be assigned to on-campus sites either their first or second semester and will be supervised by Appalachian faculty. Subsequent practicum assignments will involve travel to off-campus sites and will ensure a diverse clinical experience. Whenever possible, student requests for specific practicum sites will be considered.
The capstone practicum experience of the graduate program is the internship completed during the final semester. Students will work with the Internship Coordinator to plan their internship placement. The program has internship agreements with many facilities throughout North Carolina as well as in neighboring states.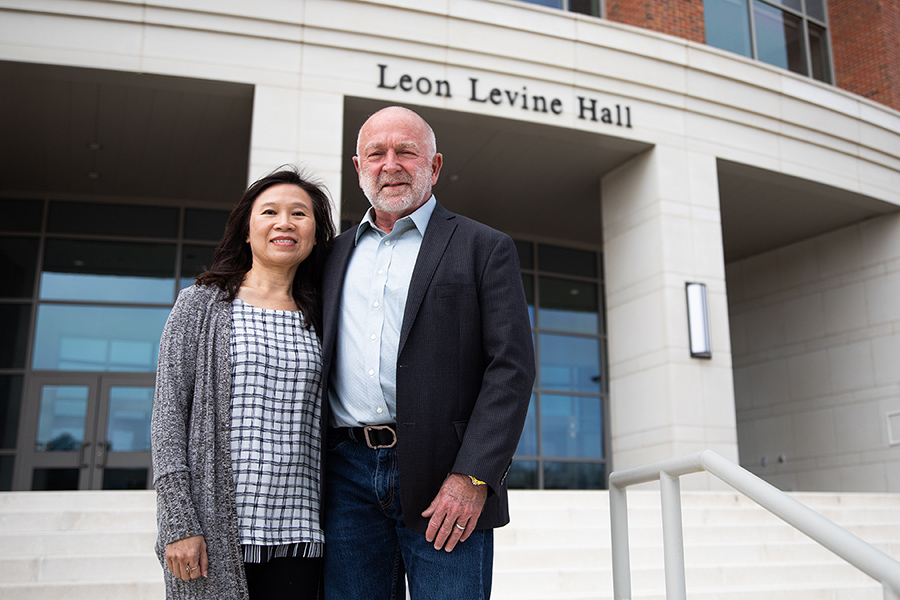 April 19, 2022
Approximately 5% to 10% of children stutter during their childhood — though most outgrow the condition. However, for about 1% of the population, the communication disorder persists, according to the National Institute on Deafness and Other Communication Disorders.
Thanks to a generous donation from Appalachian State University alumnus Dr. Ed Rankin '79 and his wife, Thuy Le, support is on the way for adolescents who stutter — through a planned speech therapy camp to be held annually on the App State campus, beginning in summer 2023. It will be North Carolina's only residential, intensive summer camp of its kind.
Connect with us
Request more information and receive email updates about the Speech-Language Pathology program.
Let us know when you're interested in attending graduate school and we'll help guide you through the process.
Apply to Grad School
Visit the Cratis D. Williams Graduate School page to apply to graduate school at App State.
NOTE: When starting a new application, please select the appropriate application type and follow the steps on how to apply.